In the Gascon language, Bosc means Forest. Bosc is located in Hagetmau on the edge of the largest forest in Western Europe, Les Landes
An introduction to our history
Until the mid-19th century, the county of Les Landes was a huge marshy plain which the inhabitants, mostly shepherds, crossed on stilts. In 1857, the Land Reclamation act, instigated by Napoleon III, led to the mass planting of pine trees in order to drain the land and stop it from eroding. Nowadays, these trees cover more than a million hectares and are used for both their resin and wood. However, other varieties are also found alongside the pine, including several species of oak. Today, the Landes forest is Europe's largest cultivated area of trees.
The river Adour flows from the Aquitaine basin, dividing the county of Les Landes into two regions. In the south lies a rich agricultural zone and the green valleys of Chalosse, where cattle and ducks are raised, together with maize. In the north, there are thousands of hectares of forest, mainly pines.
Furniture Manufacturer since 1964
The decade from 1950 to 1960 marked the arrival of comfort in homes. The chair industry employed no fewer than 3,000 people in the 1990s alone. This was when, after two generations, the Bastiat family engaged in the manufacture of chairs and furniture.
The banks of the Adour are bordered by oaks, and the wood is used for furniture and wine casks. A chair factory was created in Hagetmau in 1893. It was the first in a long line… The workshops gradually became businesses. The 1930s were good times for them. The factories modernised their equipment and acquired a know-how that was the envy of everyone.
The business was founded on 1st April 1964 by Marcelle and Joseph Bastiat. They had met each other and learnt their trade in the Capdevielle factory. One was in the carpentry workshop, and the other in finishing. Their children, Alain and Michel grew up surrounded by wood shavings, the smell of wood, tools, textiles and varnish.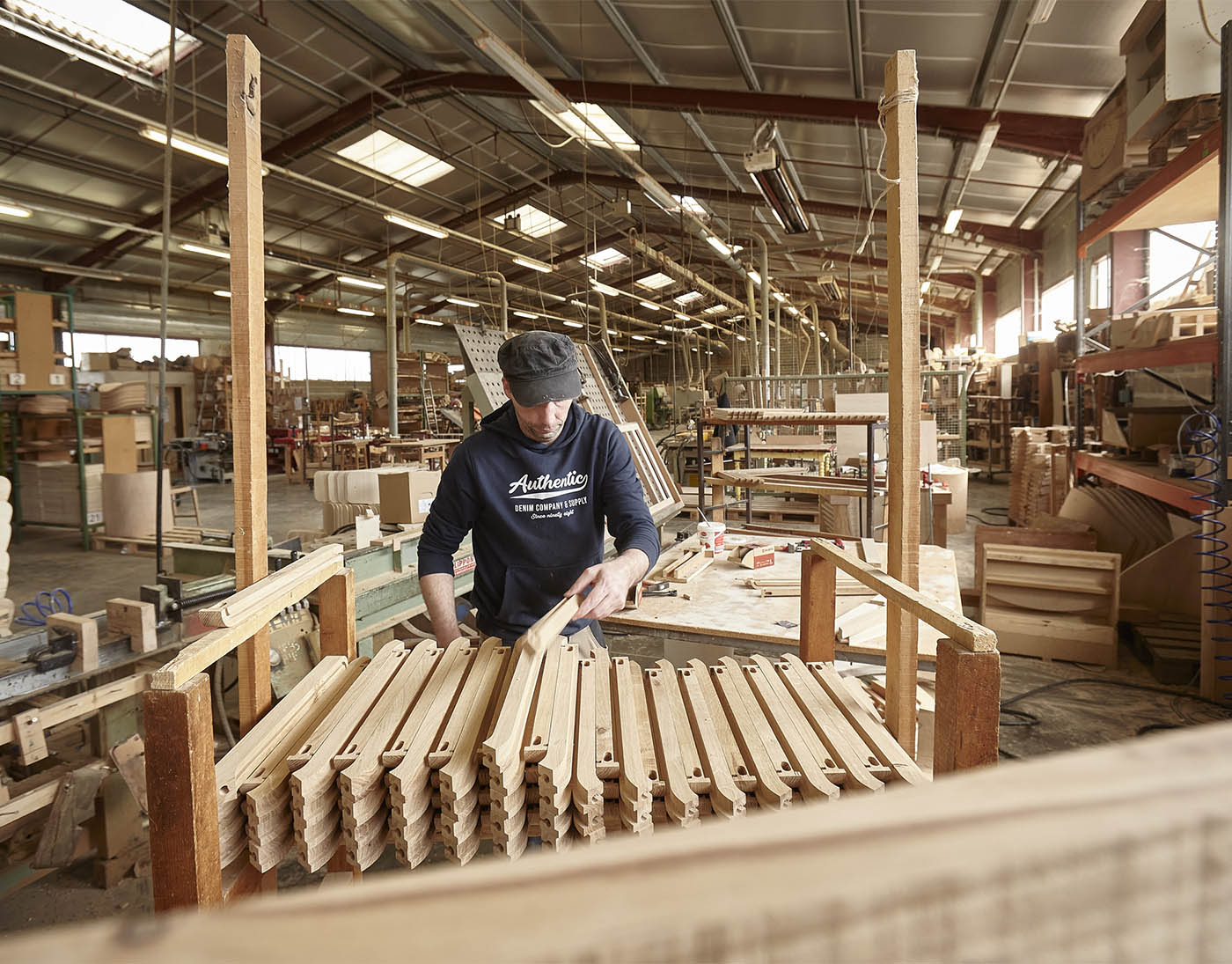 Contemporary Sofas and Armchairs
Recently Alain, who manages the business with his wife, Geneviève, wanted to create a new brand. This carries the symbolic name of BOSC and is based on the experience and know-how in cabinet-making and upholstery for household chairs. Created by the designers, Jean Louis Iratzoki and Samuel Accocceberry, various collections of sofas and armchairs are manufactured by the expert hands of the workers at Bastiat.
Bosc is an artisan of manufacturing. It considers this as a whole and has in his team the know-how necessary to master all the stages. In 2018 the company was awarded "Entreprise du Patrimoine Vivant" by the French government..
The main wood used by Bosc is oak from local forests, as well as from Sologne and northern France. Bosc also works with beech wood from the Landes region and walnut wood from Canada. The company is particularly sensitive to sustainable development, supporting responsible exploitation of forests. The same applies for the choice of natural materials, all selected with the greatest care and respect for the environment.
70 % Oak: Pyrenees, Adour valley and Sologne
20 % Beech from Les Landes
10 % Canada walnut
95 % Natural materials: linen, wool, cotton and viscose